Archive for the 'tire safety' Tag
Rain showers and storms can make for treacherous travel due to an unlikely suspect — tires. The only thing keeping a vehicle on the road are four patches of rubber, each about the size of a smartphone, but many drivers fail to replace worn tires when it's time. The less tread your tires have, the higher the probability they could hydroplane and completely lose contact with the road in wet conditions.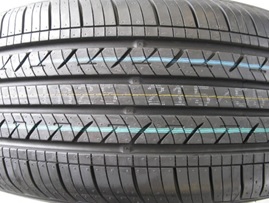 AAA and the Automobile Club of Southern California's Automotive Research Center tested new all-season tires and all-season tires worn to 4/32" in wet conditions. Compared to new ones, the worn tires increased stopping distances an average of 87 feet for a passenger car and 86 feet for a light truck – longer than a semi-trailer truck.
"Tires keep cars connected to the road," said John Nielsen, AAA's managing director of Automotive Engineering and Repair. "Even the most advanced safety systems rely on a tire's basic ability to maintain traction, and AAA's testing shows that wear has a significant impact on how quickly a vehicle can come to a stop in wet conditions to avoid a crash."
How do you know if your tires are worn to the point of needing replacement? The answer may be in your pocket. "Slip a quarter into the tire tread grooves with Washington's head facing down — if you can see the top of his head, it's time to start shopping for new tires," Nielsen said.
To help navigate slick conditions, AAA recommends that drivers:
• Do not use cruise control, slow down and avoid hard braking and sharp turns.
• Stay alert and be prepared to respond quickly if the tires lose traction with the road.
• If possible, follow in the tire tracks of other cars where water has been partially cleared away.
• Increase following distances to provide extra room should a sudden stop become necessary.

If the car begins to hydroplane, ease off the accelerator to slow down. Don't jam on the brakes because this could cause a skid and loss of vehicle control. If the rear of the car begins to slide sideways, steer smoothly in the direction the vehicle should be going until traction is regained.
For more information please read the full report AAA Tire Research Report
Read more at: https://www.aaa.com/autorepair/articles/worn-tires-increase-wet-road-stopping-distances?sf95884646=1
Picture this. It's a brisk fall morning, and and you've overslept a few minutes, because let's face it, the bed is warmer than the air outside. You rush through your morning routine. When you finally get into your car, you are greeted by an ominous warning on your dash: Low Tire Pressure. You get out and walk around the car checking your tires to see if they look low. But they look fine, so you take the risk and drive to work, wondering if you are about to experience a flat tire. Later that day, you get in the car to go to lunch and the light is out. All is forgiven, and you promptly forget about it…until the next time it happens.
What is happening?
Sound familiar? If it does, don't worry. You are not alone. It happens to millions of people every day, most often when we get the first hint of a fall chill in the morning air. In 2005 automakers began installing tire pressure monitoring systems on new cars. By 2012, all passenger cars sold in the U.S. were required to have a tire pressure monitoring system. Most cars use a sensor mounted inside the wheel to monitor pressure. When air pressure inside a tire drops by a predetermined amount the light comes on , and stays on, until the pressure is corrected.
Why does it happen in the fall?
The tire pressure light can, and will, come on anytime the pressure falls below the threshold set at the factory. There are many reasons for a tire to lose pressure. Punctures, leaky valve stems, and poor sealing at the bead just to name a few. There is also a certain amount of air that is lost directly through the rubber itself, but by far the most common cause of pressure loss is the contraction of the air due to cold weather. The air in your tire is comprised of many elements, including water, which has a tendency to expand and contract with temperature changes. When it gets cold, the air inside your tire contracts and the warning light comes on. The tire can lose up to a pound for every 10 degrees of temperature change. Friction caused by driving, as well as afternoon heating, can frequently return the air in tires to enough of its original density that the light turns off, making the problem go away. For now…
Why should I care?
In the days before tire pressure monitors, many of us went about our normal lives completely unaware of what was happening without repercussions. Should knowing suddenly make us take notice? Absolutely. Properly inflated tires handle better, last longer, and reduce the risk of spontaneous failure. Oh, it saves money on gas too!
Why do my tires have green or blue caps?
In the mid 2000s filling tires with nitrogen got very popular. Nitrogen is a popular and inexpensive alternative to air with some additional benefits. Nitrogen is dryer than air, reducing the impact water has on inflation. Nitrogen is also bigger at a molecular level. This fact reduces the amount of gas lost to microscopic leaks. The bottom line is that nitrogen is more stable than the air we breathe, and many people feel it is a better choice for filling tires. When a shop fills tires with nitrogen they will typically replace the valve caps with ones that are green or blue. This is to let the next person filling your tires know what is in them. Mixing air and nitrogen is perfectly safe, but doing so dilutes the nitrogen and offsets the benefits.
Don't throw away your tire gauge
Now that you have a tire pressure monitor, and maybe even nitrogen, in your tires, do you still need a tire pressure gauge? Yes you do. Checking your tire pressures periodically can help you stay ahead of a low tire light coming on. While doing so, why not take a minute and look at the tread too? Try the Lincoln penny test. Simply insert a penny in your tire tread, upside down. If you can see the top of Lincoln's hair it means there is not enough tread depth left, and it is time for a new tire.
Tire pressure affects handling and braking, critical factors to a safe trip. Properly inflated tires last longer and are much safer. Plus, it's estimated that under-inflated tires waste 2 billion gallons of gasoline every year. So do yourself and your wallet a favor by checking your tire pressure often, especially in the fall.
Read more at: http://www.carfax.com/blog/checking-tire-pressure/
There's Safety In Numbers
You can find the numbers for recommended tire pressure and vehicle load limit on the tire information placard and in the vehicle owner's manual. Tire placards are permanent labels attached to the vehicle door edge, door post, glove-box door, or inside of the trunk lid. Once you've located this information, use it to check your tire pressure and to make sure your vehicle is not overloaded-especially when you head out for vacation.
Checking Tire Pressure
Because tires may naturally lose air over time, it is important to check your tire pressure at least once a month. For convenience, purchase a tire pressure gauge to keep in your vehicle. Gauges can be purchased at tire dealerships, auto supply stores, and other retail outlets. Remember, the tire inflation number that vehicle manufacturers provide reflects the proper pound per square inch (psi) when a tire is cold. To get an accurate tire pressure reading, measure tire pressure when the car has been unused for at least three hours.
Locate the correct tire pressure on the tire information placard or in the owner's manual.
Record the tire pressure of all tires.
If the tire pressure is too high in any of the tires, slowly release air by gently pressing on the tire valve with the edge of your tire gauge until you get to the correct pressure.
If the tire pressure is too low, note the difference between the measure tire pressure and the correct tire pressure. These "missing" pounds of pressure are what you will need to add.
At a service station, add the missing pound of air pressure to each tire that is under inflated.
Check all the tires to make sure they have the same air pressure (except in cases in which the front and rear tires are supposed to have different amounts of pressure).
Checking Tire Tread
Tires have built-in tread wear indicators that let you know when it is time to replace your tires. These indicators are raised sections spaced intermittently in the bottom of the tread groves. When they appear even with the outside of the tread, it is time to replace your tires. You can also test your tread with a Lincoln penny. Simply turn the penny so Lincoln's head is pointing down and insert it into the tread. If the tread doesn't cover Lincoln's head, it's time to replace your tires.