Worn Tires Increase Wet-Road Stopping Distances
Rain showers and storms can make for treacherous travel due to an unlikely suspect — tires. The only thing keeping a vehicle on the road are four patches of rubber, each about the size of a smartphone, but many drivers fail to replace worn tires when it's time. The less tread your tires have, the higher the probability they could hydroplane and completely lose contact with the road in wet conditions.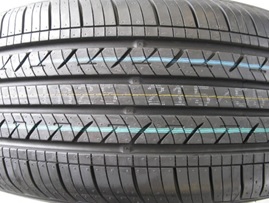 AAA and the Automobile Club of Southern California's Automotive Research Center tested new all-season tires and all-season tires worn to 4/32" in wet conditions. Compared to new ones, the worn tires increased stopping distances an average of 87 feet for a passenger car and 86 feet for a light truck – longer than a semi-trailer truck.
"Tires keep cars connected to the road," said John Nielsen, AAA's managing director of Automotive Engineering and Repair. "Even the most advanced safety systems rely on a tire's basic ability to maintain traction, and AAA's testing shows that wear has a significant impact on how quickly a vehicle can come to a stop in wet conditions to avoid a crash."
How do you know if your tires are worn to the point of needing replacement? The answer may be in your pocket. "Slip a quarter into the tire tread grooves with Washington's head facing down — if you can see the top of his head, it's time to start shopping for new tires," Nielsen said.
To help navigate slick conditions, AAA recommends that drivers:
• Do not use cruise control, slow down and avoid hard braking and sharp turns.
• Stay alert and be prepared to respond quickly if the tires lose traction with the road.
• If possible, follow in the tire tracks of other cars where water has been partially cleared away.
• Increase following distances to provide extra room should a sudden stop become necessary.

If the car begins to hydroplane, ease off the accelerator to slow down. Don't jam on the brakes because this could cause a skid and loss of vehicle control. If the rear of the car begins to slide sideways, steer smoothly in the direction the vehicle should be going until traction is regained.
For more information please read the full report AAA Tire Research Report
Read more at: https://www.aaa.com/autorepair/articles/worn-tires-increase-wet-road-stopping-distances?sf95884646=1